YoureBeautiful13
Status: I love you.
Member Since: 1 Aug 2011 05:07pm
Last Seen: 31 Aug 2013 07:27pm
Birthday: May 7
Location: Wisconsin <3
Gender: F
user id: 202288
178 Quotes
4,563 Favorites
22 Following
68 Followers
Comment Points
Comments
Comments on Quotes
Comments by User
Quote Comments by User
Flair beta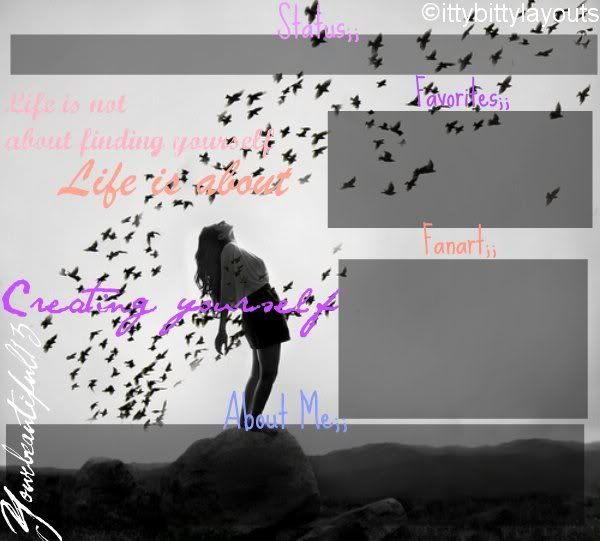 It gets better; don't sink yet.
People: xxxsportzxxx (: i lovee you hun

Quotes: http://www.wittyprofiles.com/q/2570338 (My favorite one)

http://www.wittyprofiles.com/q/3712479




Heyy, you have entered the world of what I call Society. My name is Morgan and i'm 17 years young which means I'm a senior this year! My school mascot is the POLAR BEARS (: Yes, we are one of a kind and I like it! I blow out my candles on May 7th and celebrate my half birthday on November 7th. My friends (the little that I have) call me Morgyy and that's that. My life has been tough, thanks to society, but there is always hope. This is my 2nd accout because some people I know found out my other one. Anyways if you're still reading this I LOVE Y
OU and I just wanted to let you know you're beautiful, inside and out, don't let anyone tell you otherwise. I'm here if you ever need anything, just email me (In the aim box on top is where you can find my email). I've been through a lot but i'm still here. One thing you should know about me is that I have OCD. Ask me if you want but yeah. (: No judging---that's my policy.

Oh and as for my relationship status::: Taken by a boy than never fails to make me smile :D He may have made bad decisions (and sometimes still does) but that's what makes him himself. I'm trying to stay strong private.
Join · Top Quotes · New Quotes · Random · Chat · Add Quote · Rules · Privacy Policy · Terms of Use · Full Site
© 2003-2022 Witty Profiles