SummerForEver
Status:
Member Since: 11 Apr 2011 07:05pm
Last Seen: 27 May 2014 05:37pm
user id: 164739
57 Quotes
2,636 Favorites
41 Following
33 Followers
Comment Points
Comments
Comments on Quotes
Comments by User
Quote Comments by User
Flair beta
Hello. Welll the name's Cassie. 16 and born on the 28 of February. Well I recently just had my heart broken by someone who I was never even with. Some things i like: movies. gummy worms. yoga pants. flying. snorkeling. dolphins. hoodies. summer. capri suns. swimming. music. memories. football.
Good movies: easy a. she's the man. a walk to remember. charlie st cloud. all the harry potters. despicable me. a cinderella story. tangled. soul surfer.
Good books: HUNGER GAMES. all the harry potters. all the twilights. gone series. bright young things.the last song. dear john. anna and the french kiss. the galagher girls series. anything by sarah dessen. pretty little liars.
Best show in the world: GOSSIP GIRL. pretty little lairs a close second.
i plan on marrying ed westwick. team peeta forever. i wanna move to jamaica.
<3 cassie.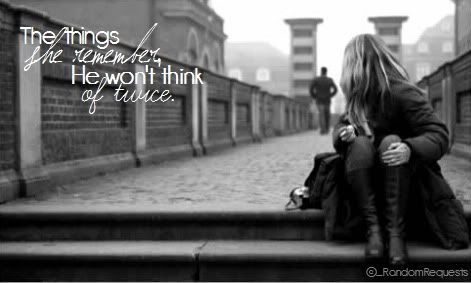 Join · Top Quotes · New Quotes · Random · Chat · Add Quote · Rules · Privacy Policy · Terms of Use · Full Site
© 2003-2020 Witty Profiles